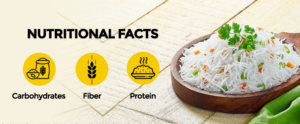 Under the Seeds Act of 1966, 34 varieties have thus far been notified. These are accessible throughout the nation. If you enjoy rice, you should consume them often and at the very least be aware of some of them. Below are the different types of Basmati Rice in India:
Types of Basmati Rice In India
1. Punjab Basmati
As crop seeding for the Punjab Basmati season nears its conclusion, farmers in Punjab prepare for Basmati growing. Punjab has seen a more than 20% growth in basmati farming. Farmers in Punjab have extended the area under Basmati cultivation by more than 20%, particularly in Tarn Taran, Gurdaspur, and Amritsar. Farmers are being urged to produce Basmati because it uses less water than other varieties by agricultural officials and exporters.
For commercial cultivation in the next season in the state, Punjab Agricultural University, Ludhiana, has cultivated a new type of Basmati called Punjab Basmati to diversify the state's food supply and preserve its declining subsurface water table. Unlike the most popular cultivar, Pusa Basmati, Punjab Basmati is resistant to all ten pathotypes of the bacterial blight pathogen present in Punjab. Punjab Basmati is distinguished by having a strong smell that is comparable to that of traditional basmati varieties. For basmati growers and other interested parties, Punjab Basmati is a practical choice.
2. Haryana Basmati
Many rice recipes may be made with Haryana Basmati Rice, including biryani, pulao, and other Indian meals. It also pairs well with curries and lentil dal. The pearly white grains of Haryana Basmati Rice, available in several pack sizes and export grades, have long been prized for their beauty. The basmati rice type from Haryana is remarkably resistant to stem rot, stem borer, and white back planthopper.
3. Sugandha Basmati Rice
Sugandha Basmati rice is grown in Punjab, Haryana, Uttar Pradesh, Bihar, and Delhi under ideal environmental circumstances. Due to its alluring scent, long shelf life, premium quality, flavor, and ease of digestion, this rice is highly known in the market.
It is safe to eat since it is free of tiny stones and dust. Due to its high fiber content, it promotes a healthy digestive tract and prevents issues like constipation. Shoppers can choose from a variety of packing options for this rice. Even after cooking, Sugandha Basmati rice is fluffy and non-stick.
4. Kasturi Basmati
The medium-grained, fragrant, and delectable Kasturi Basmati rice from Uttrakhand is well-known for its qualities. It is cultivated in Uttarakhand at 400–600 meters above sea level. It includes soluble fiber and carbs and has the lowest glycemic index of any rice.
Even though basmati rice is among the healthiest foods, the Kasturi basmati has a lower glycaemic index than the others, which will help you lose weight. It is not only healthy but also flavorful and fragrant. Its grains are medium in size in contrast to the conventional basmati rice grains.
5. Pusa Basmati
A hybrid semi-dwarf plant called Pusa Basmati Rice has many of the same characteristics as regular Basmati rice. The sole difference between Basmati Rice and Pusa Basmati Rice is the rice's length. The Indian Agriculture Research Institute in Delhi developed PUSA basmati rice to give farmers a higher return and give fans of basmati rice a more inexpensive choice.
The Pusa Basmati Rice crop grows earlier and yields a good average compared to ordinary basmati rice. The same Pusa Basmati Rice is the only variety of semi-dwarf Indian rice plants that falls within a separate agricultural science category. The Pusa Basmati Rice exhibits all of the characteristics of Basmati Rice, including its scent, nutritional value, non-stickiness, and flavor, except for the little shortening in grain length.
6. Cream Sela Basmati Rice
Cream Sela Basmati Rice  is a light-colored parboiled variation of 1121 Extra Long Grain Basmati rice. The cooking method and finished product of cooked rice distinguish Creamy Sella Basmati Rice from 1121 Extra Long Grain Basmati rice. Sela rice usually takes longer than basmati rice but cooks "easier."
Once it has been cooked, Cream Sella Basmati rice is firmer than 1121, and the grains continue to be distinct. Restaurants frequently like cream and sell basmati rice because it is simpler to handle while cooking, and the grains stay separate. Cream sela rice is called Maharani sela rice. Apna Sela Rice is another type of cream sela rice that is particularly well-liked.
7. Golden Sella Basmati Rice
Golden Sela is a yellowish kind of Extra Long Grain Basmati rice. The rice is parboiled with its natural brown husk on it and then dehusked, which is why it has a yellow color. Due to the rice's husk being parboiled, more nutrients are absorbed, making the rice more nutrient-rich. Golden Sela basmati rice develops fluffy, robust, and distinct grains when cooked.
Source: Apeda.gov.in
What health benefits can basmati rice provide?
The rice queen of the world is basmati. Yes, we appreciate brown rice for its nutritional benefits. We enjoy jasmine rice's nutty taste and somewhat sticky texture. However, basmati comes out on top when you combine all the benefits! Basmati rice gets quite close to being as nutrient-dense as brown whole grain rice, which is the most nutritious of all.
Basmati rice has more fiber than white rice. The bran layers' fibers contribute to basmati's mild glycemic index. Great digestion and regular bowel movements are attributed to fiber content. Additionally, basmati is a fantastic option to control your hunger because of the carbohydrate amylose.
Final Words
Long-grain rice with a nutty flavor and deep perfume, basmati is aromatic. It has less arsenic than other types of rice. Basmati rice has a unique nutritional profile since it is fortified with important vitamins and minerals. There are various delectable savory and sweet dishes made with basmati rice. It is available in white and brown variants.